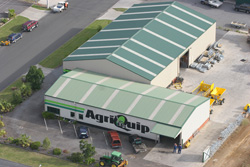 Agriquip is a company with a passion for providing quality tractor mounted and driven implements for over 15 years. Our friendly and knowledgeable staff are here to advise you on the best equipment for your application. We are convinced that you will find our machinery beneficial to your organisation both in terms of economic ownership values and user satisfaction.
Agriquip is a New Zealand Owned Company and keeps a balance of NZ Made and imported equipment in stock.
The common NZ made names are CUB, SPREADMASTER, HYDRASPLITTER, AGRIQUIP and imported names such as BOMFORD REACHMOWERS, McCONNEL REACHMOWERS, SPEARHEAD ARM MOWERS, MAROLIN REACHMOWERS, TUCHEL BROOM SWEEPERS, SWISHER WOODSPLITTERS, TIGER CLAW ROADSIDE RETRIEVER, McCONNEL ROBOCUT-REMOTE CONTROLLED SLOPE MOWER, McCONNEL SHAKAERATOR / VIBRATING SUBSOILER, SPEARHEAD MULTICUT ROTARY MOWERS, VACUUM/LEAF SUCKER MACHINES.
Mission Statement:
Presenting and supplying quality equipment with support from our authentic producers, nationally and internationally to highly respected customers with tall delivery demands where only unparalleled service has proven to satisfy.
Agriquip is based in 30 Hurlstone Drive New Plymouth which is in the Taranaki region.
New equipment is stored in the 900m2 warehouse along with a large holding of spare parts for machinery promoted by Agriquip.
The owners have had connections with Farm Machinery dating back to the 1960's and believe in prompt friendly service to its customers throughout NZ. The region is well catered for with Large freight companies delivering equipment overnight in the North Island and 3-4 days to the South Island.