Compact, high performance vacuum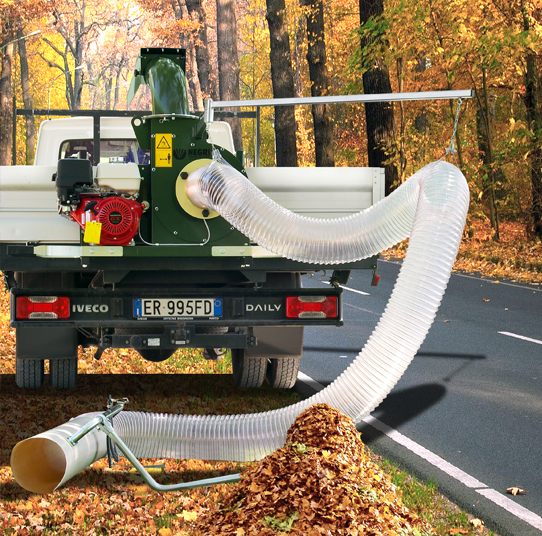 Tornado vacuum systems are able to clear wide areas, such as parks, gardens, large warehouses and sports grounds, of grass, leaves and other light waste material (such as plastic bottles).
The Tornado vacuum systems have many great features, making them a compact, high-quality, high performance vacuum.
MODELS
• GX390 - Tornado vacuum system with tail-board connection, 13 HP Honda engine
• GX630 - Tornado vacuum system with tail-board connection, 21 HP Honda engine
• Tornado PTO - Tornado vacuum with power take-off (PTO) connection, tractor driven, minimum 13 HP
The machines are simple, sturdy, reliable, easy to handle and versatile - the ideal machine for professional users. These vacuum systems would prove a great option for the maintenance of gardens, streets, recreational parks, large warehouses and surrounding grounds and many other areas.
The vacuums are equipped with a suction pipe (200 mm diameter, 6 m length), which is light, wear resistant and allows for a comfortable handling. The suction is created by a fan (390 mm diameter) powered by a petrol engine or by PTO for the tractor version.
The Tornado has been designed to be hooked onto the sideboards of trucks or pickups and to discharge the sucked material directly into the loading platform via its rotary ejection pipe, with an adjustable length of throw.
PHOTO GALLERY
(click photo to enlarge)
SPECIFICATIONS
Model
GX390 (13 HP)
GX630 (21 HP)
Tornado PTO
Petrol
Petrol
Tractor
Engine
Honda GX390 13 HP
kW 9,6 - Pull Start
Honda GX630 21 HP
kW 15,5 - Electric Start
Min. 13 HP 9,6 kW
Transmission
Centrifugal clutch + 2 belts
Centrifugal clutch + 2 belts
Gearbox + 2 belts
Suction Pipe Diameter
200 mm
200 mm
200 mm
Suction Pipe Length
6 m
6 m
6 m
Fan Diameter
390 mm
390 mm
390 mm
Ejection Blades
4
8
8
Length
1598 mm
1280 mm
938 mm
Width
638 mm
734 mm
756 mm
Height
1132 mm
1132 mm
1626 mm
Weight
153 kg
195 kg
225 kg
DOWNLOADS