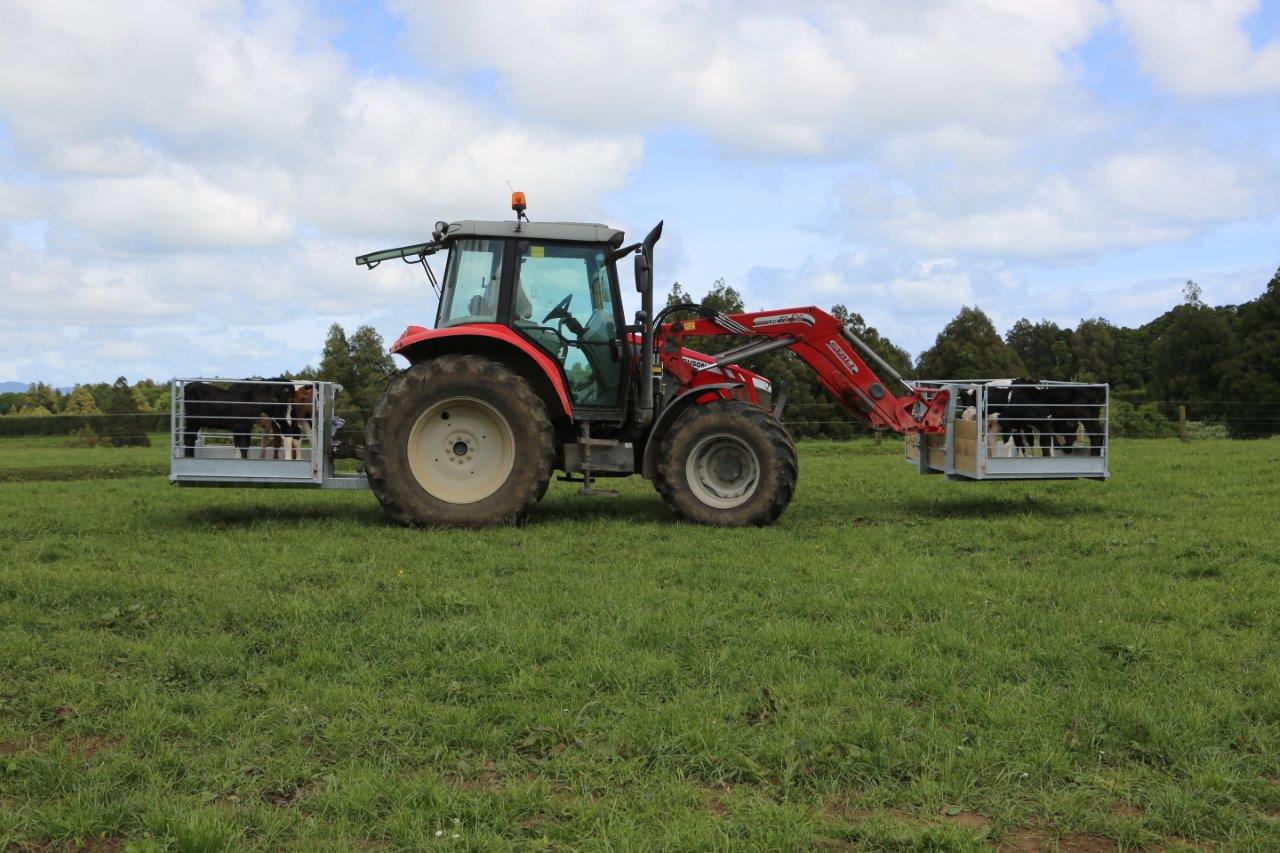 The farmer friendly attachment for those many jobs around the farm, for stock transport, feeding out or any multi-purpose carrier.
10 models to suit your tractor and your specific needs. Standard three point linkage mounting, or stay in your seat and go for the quick-hitch option. Recently added to the range are the two new dual hitch 7 x 4 trays.
All models available with optional stock pen.
FEATURES
• Fully galvanized
• Cat 1 & 2 linkage points
• Quick hitch mounting model
• Removable boards
• Tow hitch
SIZES
All models are fully hot dip galvanized
| | | | |
| --- | --- | --- | --- |
| | | | |
| 1200 mm x 750 mm | 4' x 2'6" | 3PtL | Cat 1 |
| 1500 mm x 900 mm | 5' x 3' | 3PtL | Cat 1 + 2 |
| 1800 mm x 1200 mm | 6' x 4' | 3PtL | Cat 1 + 2 |
| 2100 mm x 1200 mm | 7' x 4' | 3PtL | Cat 1 + 2 |
| 2100 mm x 1200 mm | 7' x 4' | 3PtL + Euro Hitch | Cat 2 |
| 2100 mm x 1200 mm | 7' x 4' | Quick Hitch | Cat 2 |
| 2100 mm x 1200 mm | 7' x 4' | Quick Hitch + Euro Hitch | Cat 2 |
| 2400 mm x 1350 mm | 8' x 4'6 | 3PtL | Cat 2 |
| 2400 mm x 1350 mm | 8' x 4'6 | Quick Hitch | Cat 2 |
| 3000 mm x 1830 mm | 10' x 6' | 3PtL | Cat 2 |
PHOTO GALLERY
(click photo to enlarge)